Saturday OCT 7 from 2-6PM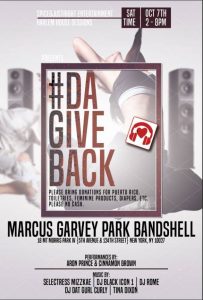 SpicedJustRight Entertainment / Harlem House Sessions
PRESENTS#DAGIVEBACK
Stand With #PuertoRico
Meet us at MARCUS GARVEY PARK BANDSHELL in #HARLEM
BRING :
Batteries,
Mosquito Repellent
Hygiene/Feminine Products 
Diapers
Warm clothes for families coming to NYC
No Cash Please.
Let's Give Back & Spread Love 
MUSIC & LIVE PERFORMANCES
See flyer for more details.
Upcoming Events in Harlem & NYC
Sunday, October 1st from 11:30am–6:00pm
33rd Annual Medieval Festival
Join us for the 33rd Annual Medieval Festival in Fort Tryon Park. This festival brings to life the customs and spirit of the Middle Ages.
Fort Tryon Park
Margaret Corbin Drive and adjacent lawns
67-99 Margaret Corbin Dr, New York, NY 10040
Monday, October 2nd from 11am – 12:30pm
Central Park Tour: The Ramble 
Led by Central Park Conservancy guides, highlights of this tour include: the Lake, Bow Bridge, Ramble Arch, Oak Bridge, the Gill, and Azalea Pond.
Belvedere Castle in Central Park
Mid-park about 79th Street
 
Tuesday, October 3rd @7:00pm
Word Up Super Storytellers
Eric Vetter brings New York's best established and emerging authors and storytellers to the Word Up Community Bookshop in Washington Heights.
Word Up Community Bookshop
2113 Amsterdam W 165th Street New York, NY 10032
Wednesday, October 4th @7:30pm
Amateur Night at the Apollo 
Amateur Night at the Apollo is hosted by the comedian Capone. Each show begins with a festive pre-party featuring video and music by DJ Jess. Tickets start at $24.50
Apollo Theater
253 West 125th Street New York, NY 10027
 
Thursday, October 5th from 6:30pm – 7:30pm
Summer on the Hudson: Yoga Flow
Veteran Nina Semczuk helps you cultivate strength, flexibility, balance, and focus while enjoying yoga outdoors. Link mindful breathing with movement in this full spectrum yoga practice.
Riverside Park
North Lawn at 78th Street in Riverside Park
Friday, October 6th @7:30pm
Harlem Stage on Film: Dreamstates
Written by Rwandan-born Anisia Uzeyman, DREAMSTATES paints an underground portrait of a sultry, sensual, and quixotic America through the fleeting romance of two artistic lovers.For tickets and information contact Harlem Stage.
Harlem Stage
150 Convent Avenue at West 135th Street
Saturday, October 7th @8:00pm
Jazz – Dr. Lonnie Smith Trio
Dr. Lonnie Smith, the elder statesman of the Hammond B3 organ with a career spanning over five decades, is nothing short of a living legend.
Miller Theatre – Columbia University
2960 Broadway at 116th Street New York, NY 10027
Sunday, October 8th from 12pm – 4pm
Sukkahwood Festival
Sukkah Wood is one day community arts festival held in beautiful Inwood Hill Park. Artists and designers are producing temporary dwelling art installations alongside entertainers.
Inwood Hill Park
Inwood Hill Nature Center, New York, NY
Monday, October 9th from 9am – 3pm (Columbus day)
sweet spot pop + shop! 
It will be a full-day of outdoor fun, music, interactive art making workshops, local food & vintage vendors, fresh produce, storytelling and more.
Sugar Hill Children's Museum of Art & Storytelling
898 St. Nicholas Avenue @ W 155th Street
Tuesday, October 10th from 3pm – 3:50pm
Tour of Gracie Mansion 
As a historic house museum run by NYC Parks, sitting on 11 acres of grounds now known as Carl Schurz Park, Gracie Mansion has served as the home of 10 mayors.
Gracie Mansion
88th Street & East End Avenue, Carl Schurz Park
 
Wednesday, October 11th @12pm
Noonday Concert – Gene Bertoncini & Josh Marcum
Designed to appeal to the widest possible audience, the programs, which last one half hour, take place during the lunch hour beginning at 12:05pm. All are welcome.
Interchurch Center
475 Riverside Drive Rear entrance 61 Claremont Avenue
Thursday, October 12th @7pm
The Armstrong Continuum: A Concert 
A night of music featuring some of the nation's most significant jazz artists playing music associated with the ongoing legacy of Louis Armstrong, featuring a quartet led by Kidd Jordan.
Miller Theatre – Colombia University
2960 Broadway at 116th Street New York, NY 10027
 
Friday, October 13th from 6pm – 8:30pm
NYC Parks Presents: Teen Summit
An inter-generational program for teens and adults to discuss careers, education, health, wellness and community service. All teens are welcome!
Hood Wright Recreation Center
Hood Wright Park 351 Fort Washington Avenue
Saturday October 14th from 10am – 2pm
Open House New York at City College
OHNY celebrates its 15th year of making the grand spaces of NYC free and open to the public for its annual weekend event.  The City College of New York is proudly featured.
The City College of New York
160 Convent Avenue, The Great Hall within Shepard Hall
Sunday October 15th from 8am – 1pm
Breast Cancer Walk 
Walk with us as we strive to raise both money and awareness for Breast Cancer! This event will be taking place off campus from 8am-1pm. Further details in the link provided.
Central Park
East 72nd St and 5th Ave Manhattan, NY
Monday October 16th from 10am – 6pm
The Butterfly Conservatory
This annual favorite invites visitors to mingle with up to 500 fluttering, iridescent butterflies among blooming tropical flowers. Pay-what-you-wish admission is available.
American Museum of Natural History
Central Park West at 79th St. Manhattan, NY 10024
Tuesday October 17th from 2:30pm – 4pm
Informational: Networking Your Way to a Job
Learn how to find and cultivate a working relationship with a Mentor who already works in the occupation/field you want to pursue who can provide you with career guidance.
The City College of New York
160 Convent Avenue, North Academic Center Room 1/115
 
Wednesday October 18th from 9pm – 11pm
CCNY Men's Soccer vs. Brooklyn College
Come out to see the CCNY Beavers face off against the Brooklyn College Bulldogs this Wednesday night in Brooklyn!
Brooklyn College
Aviator Sports Complex, Floyd Bennett Field 3159 Flatbush Ave
Thursday October 19th from 1pm – 3pm
Harlem Civil Rights Multimedia Walking Tour
The tour visits sights in Harlem associated with the Civil Rights Movement and starts with a video presentation inside Harlem Heritage Tourism and Cultural Center providing insight into what will be experienced along the way.
Harlem Heritage Tourism & Cultural Center
104 Malcolm X Blvd. between 115th & 116th Streets
Friday October 20th from 10am – 3pm or 6pm – 9pm
The Gravesend Inn, A Haunted Hotel
Prepare to be scared at New York City College of Technology's (City Tech) annual high-tech haunted hotel, The Gravesend Inn. Not advisable for pre-school age children.
New York City College of Technology
Voorhees Theatre, 186 Jay Street, Brooklyn, NY
 
Saturday October 21st from 11am – 4pm
Pumpkin Picking
Visit the historic 1800s Decker Farm and bring home a pumpkin! Enjoy our farmhouse tour, hayride, face painting, arts and crafts, and corn stalk maze.
Decker Farm
Historic Richmond Town 441 Clarke Ave. Staten Island 10306
Sunday October 22nd from 10am – 6pm
Scarecrows and Pumpkins
Monstrous pumpkins from around the country some weighing in at more than a ton once again arrive at the Garden, arranged in collaboration with the Great Pumpkin Commonwealth.
New York Botanical Garden
2900 Southern Blvd Bronx, NY 10458
Monday October 23rd from 11am – 12:30pm
Central Park Tour: Seneca Village
Seneca Village was an important community of predominantly African-American property owners, living in an area that now makes up part of Central Park.
Central Park
85th Street and Central Park West, Manhattan
Tuesday October 24th @ 7pm
Harlem Swing Dance Classes: Learn to Lindy Hop!
Join us for some Harlem Swing Dance fun! Lessons for an hour and get the basics and your social dance groove going with the village's most famous dance of Lindy Hop.
Joseph P Kennedy Center
34 W 134th St, New York, NY 10037
Wednesday October 25th @ 12pm – 2pm
Mastering The Interview
Learn highly effective tips on how to master the art of interviewing. Even if you're already a seasoned interviewee you could always learn something new and it's completely free!
The City College of New York
160 Convent Avenue, North Academic Center Room 1/115
Thursday October 26th from 5:10pm – 10pm
Night of 1,000 Jack O'Lanterns
Night of 1,000 Jack O'Lanterns is ready to light up New York Harbor this October! Come see more than 1,000 illuminated jack o'lanterns carved by artists from around the tri-state area.
Governors Island
Accessible via Manhattan Ferry at the Battery Maritime Building (10 South Street, New York, NY 1000)
Friday October 27th from 6:30pm – 8pm
Haunted Lantern Tours
Join the Urban Park Rangers on an outdoor, haunted tour of the historic Water Battery at Fort Totten Park. Please be in line on Shore Road by 8:00 p.m. for guaranteed admittance.
Water Battery Gate
Fort Totten Park Cross Island Pkwy. bet. Totten Ave. and 15 Rd.
Saturday October 28th from 10am – 3pm
Harlem Grown's Halloween Festival
Our Halloween Festival is our most fun day of the year! We close out our season with a bang and our community comes out in their best costumes!
Harlem Grown
118 West 134th Street New York, NY 10030
Sunday October 29th @ 4pm
Halloween Parade and Pumpkin Flotilla
 
Celebrate the Halloween season at one of the best park's in the city for fall foliage: Central Park. Listen to ghost stories, check out a costume parade and get creative by carving a pumpkin.
Central Park
Enter on 110th St at Adam Clayton Powell Jr Blvd (7th Ave)
Monday October 30th @ 10am – 4pm
Fishing at the Harlem Meer
Catch-and-release fishing at the Harlem Meer has become a favorite community pastime in Central Park, and the Meer has become the has preferred fishing area in the Park.Fishing poles are available to borrow.
Central Park
Charles A. Dana Discovery Center, the north shore of the Meer
 
Tuesday October 31st @ 7pm
Village Halloween Parade
Hundreds of Puppets, 53 bands of different types of music, dancers, artists, and thousands of other New Yorkers in costumes of their own creation in the nation's most wildly creative public participatory event!
The Village NYC
6th Avenue North of Spring Street to 16th Street