Welcome to WHCR 90.3 FM-The Voice of Harlem
Broadcasting from the campus of The City College of New York
WHCR-90.3FM is a community radio station that is owned and operated by The City College of New York in Harlem. WHCR's programming is a multilingual mixture of music and talk and is produced by members of the community as well as City College students.
WHCR's studios are located in the NAC building at City College. With funding provided by former Manhattan Borough Presidents C. Virgina Fields and Scott Stringer, this state-of-the-art facility has two broadcast studios, two edit suites and a live performance studio.
You can listen to WHCR's programming all over the world by clicking on the button below and you can watch it by clicking on the large blue play button in the TV screen.
If video does not load you can watch it here. Click Now
WHCR-90.3FM mourns the loss of Willie Medina.
April 15, 1932  – February 22, 2015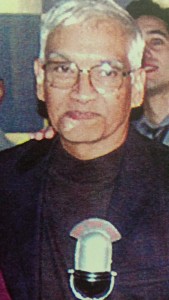 Willie Medina, a resident of El Barrio/East Harlem for many years was a native son of Ponce, Puerto Rico. Willie passed away on February 22, 2015 at Mount Sinai Hospital where he was being treated for diabetes and a heart condition.
Throughout his lifetime, Willie contributed to the cultural life of New York City and the Puerto Rican community.  For seventeen years he co-produced "Rincon Caliente" a Salsa music show, every Thursday from 2pm-6pm on WHCR- 90.3 FM at The City College of New York. He also conceived, produced and distributed the "Willie Medina Salsa Hotline," a listing of all the Salsa music shows that air on stations across New York City. He was an active member of "Los Old Timers De La Calle 111" and he was a regular guest on Johnny Cruz's "Las Ventanas De Latin-American cable TV program.
A memorial service was held in honor of Willie Medina on Wednesday, April 15, 2015 at 6pm at St. Cecilia's Church, located at 120 E 106th St. b/t Park Ave & Lexington Aves in East Harlem New York.
Our deepest condolences are extended to the Medina Family. Our WHCR-90.3FM family will truly miss Willie Medina.