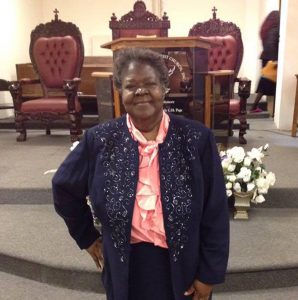 It is with great sadness that we announce the unexpected passing of WHCR Gospel announcer Sister Mary Jefferson. She was the host of Sweet Spirit of Victory on Mondays 4am-8am. Sister Mary was a host on WHCR for the past 24 years. She started as one of Deacon Watts' cohosts and got her own show in 2010.
Sister Mary was a great asset to WHCR. Her popular gospel show, featured quartet groups like the Joy Wonders and the Angelica Jewels of the Carolinas. As well as local artists like Catherine Miller. Her attendance and punctuality were impeccable and she was one of our best fundraisers. She also often visited some of her listeners who were sick and shut in.
Sister Mary was a Harlemite and had a very demanding full-time job at The New York City Human Resources Administration. The agency is dedicated to fighting poverty by providing New Yorkers in need with Food Assistance and Emergency Rental Assistance.
In addition to finding the time to do a 4-hour weekly radio show on WHCR, she produced an annual Black History/Heritage Service and booklet. The booklets were filled with profiles of famous people like writer, Ida B. Wells, Congressman John Lewis and singer Bo Diddley. She also featured not so well-known "sheroes" like Erma L. Young, who was a singer and caregiver to the elderly.
Sister Mary Jefferson was also Reverend Mary L. Jefferson, executive officer of Saints of Jesus Christ ministries. A dedicated parishioner, she fell ill while she was getting ready for church on Sunday, December 22nd and transitioned the same day at Metropolitan hospital in Harlem.
Sister Mary's funeral was held at Owens Funeral Home, 216 Lenox Ave, New York, NY 10027 on Thursday, December 26, 2019. The viewing was from 5-7pm, Funeral service was at 7pm. It was very well attended by WHCR listeners, local artists, WHCR DJs and talk show hosts, co-workers, church members and family. Special thanks to all who attended.
There will be another service for her in South Carolina
Date: Saturday, December 28th
Location: Zion United Methodist Church
1701 Old Highway 6
Cross, South Carolina, 29436
Viewing: 12noon-1pm
Funeral: 1pm
Sister Mary Jefferson will be greatly missed.